[vc_row][vc_column][vc_column_text]
[page_title]
[/vc_column_text][vc_column_text]
We seek your support to live simply in peace and shared joy, making chocolates with love and prayers for the world.
As members of the Cistercian Order of the Strict Observance, the sisters of Mount Saint Mary's Abbey live a life of simplicity and prayer.  Our monastic tradition calls us to live by the work of our hands.  Trappistine Quality Candy enables us to support our life of prayer, and also to share with the poor.
Our commitment to care for creation is rooted in our Cistercian heritage.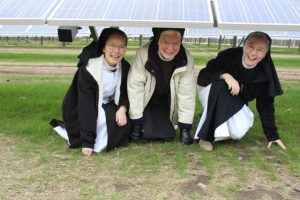 Because of this value we have committed ourselves to three types of renewable energy on our property:  a wind turbine which supplies power for the monastery; a geothermal energy system for heating/cooling of the candy production facility; a solar field, which supplies the public buildings for the nearby town of Franklin, MA and a solar array on our Abbey roofs which provides power for the monastery and candy facility.
Each time you enjoy or share a box of our candy, or give a donation, you are contributing to the support of a community that fosters ongoing prayer for the world, and a responsible and sustainable lifestyle.[/vc_column_text][vc_row_inner][vc_column_inner width="1/2″][vc_column_text]


If you would like to make a donation to the Abbey Farm Project, please click the Donate button below![/vc_column_text][vc_column_text]
[/vc_column_text][/vc_column_inner][vc_column_inner width="1/2″][vc_column_text]


To make an online donation to Mount St. Mary's Abbey, please use PayPal:[/vc_column_text][vc_column_text]
[/vc_column_text][/vc_column_inner][/vc_row_inner][/vc_column][/vc_row][vc_row][vc_column][vc_column_text]To donate by check, please make your checks payable to:
Mount St. Mary's Abbey
300 Arnold St.
Wrentham, MA 02093
Bequests are also appreciated and accepted.[/vc_column_text][/vc_column][/vc_row]